The HMC sailing club now charters all of our boats. This is allows us to only worry about having a enjoyable time on the water. In the past the club owned multiple boats and would be interested in looking into this option for the future.

Charter Boats:
Capri 22
The main boat the club charters is the Capri 22. We rent the boats from Harborlight Yacht Club in Long Beach. We have rented up to three boats at a time. While they are not fast racing boats they are good for learning on. They are also located in a isolated breakwater making for smoother sailing.
For more information visit http://www.catalinayachts.com/yachts.cfm?act=model&id=14
Large boats:
In the past we have chartered 35-42 ft boats from Blue Pacific Boating in Santa Monica. These boats have been used to visit Catalina Island during spring break.
Small Boats:
The club is currently looking for a place to charter small boats. Two possible places are Leeway sailing center in Long Beach and UCLA. Both would require a certified individual to charter them.
Past Boats:

Prindle-16
The Prindle 16 is a catamaran with a basic sloop rig (mainsail and jib). This 16 ft sailboat is the largest we currently own. Anyone who has sailed on a smaller catamaran before, perhaps one of the more famous "Hobie-Cats," knows that these boats can be very fast. With the proper wind conditions and two well trained sailors, the boat will glide through the water on a single pontoon, reaching speeds above 10 knots! 

   Because of its size and speed, the Prindle is the most fun and versatile boat in our fleet. It is easy to sail, and has the space to hold 4 or more passengers. Here are a few specs on the prindle, and links to some more information:
LOA: 16 ft
Width: 7' 11"
Draft: 22"
Sail Area: 189sq. ft.
Weight: 300 lbs.
Mast Length: 26'


International 14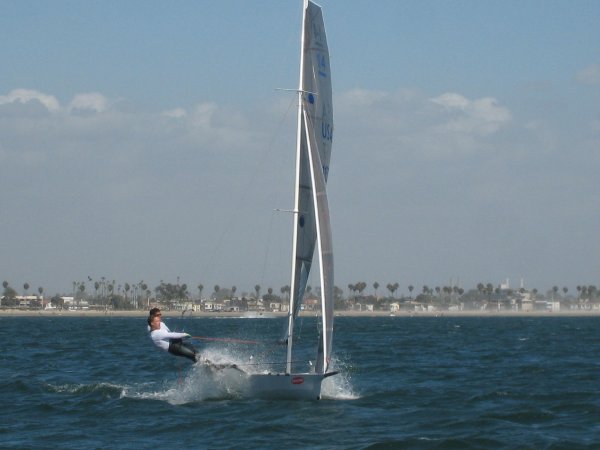 The International 14 was donated to the club in 2003 from an alumni who raced it through Dana Point Yacht Club. International 14's originated in 1928 as the first world class double-handed racing di

nghies. It is know as a "Development Class" becasue new boat designs are weclomed every year as long as they meet a basic set of specifications. Thus, I-14's are always on the cusp of new te

chnology, and consequently very hard to sail. Many beginning I-14 sailors spend more time in the water than sailing on their first day out! Nonetheless, when you can get this challenging boat to sail properly, it will cahnge your sailing experience forever.

    Although this is designed as a racing boat, the club has never been able to race it most likely due to a general lack of experienced and willing sailors. Even so, if we are able to find a storage location for the boat closer to the water, there are many international races that take place jsut 45 minutes away in Long Beach through ABYC! We are very lucky to have this opportunity so close to Mudd, and hope to take dvantage of it in the future. 















For further information on the International 14, the class website can be found here.




Flying Junior
    Flying Juniors (FJ's) are very popular boats among southern California sailing clubs. They are easy to sail, yet they offer a full range of sailing opportunities including sail under mainsail and foresail. They are designed for two sailors, but can hold up to four for pleasure cruising, Here are the sp
ecs for the FJ:
LOA: 13.3 ft
Width: 4.93 ft
Draft: 3.17 ft
Sail Area: 100sq. ft.
Weight: 210 lbs.
Optimal Sailor Weight: 280 lbs.